Several things:
1.) I FINISHED REVISING. You know all those times I've cryptically referred to the project I've been revising for almost literally forever? Well, I finished finished. And it's now off with critique partners. So fingers crossed I didn't leave any gaping plot holes or anything. (For reference of how long I've been working on this thing: When I looked back at the original revision notes, a couple weeks ago, there were change suggestions listed there that I'd thought had always been that way.)
2.) We are SO CLOSE to being able to make these Ch1Con-related announcements. We'll hopefully have them up tomorrow. Pinky swear!
3.) This week's Wordy Wednesday is a song I wrote about Ally Carter's upcoming novel All Fall Down (GoodReads link). Of course, I haven't READ All Fall Down yet, because it doesn't come out until January. (SO FAR AWAY.) But I love all of Ally's other novels, and the plot blurb sounds amazing, per usual, so I got really excited one day and wrote a song.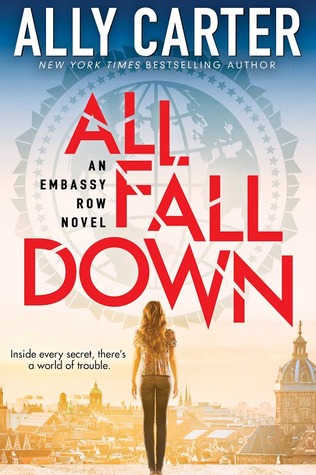 Isn't this cover BEAUTIFUL? [Image kidnapped from Goodreads.]
[Warning: The microphone on my new laptop sucks, I messed up a couple times, and I look like I just survived a day of class (because I did). So this isn't the greatest recording ever. But it'll give you a feel for how the song SHOULD sound.]
**********
[Bm, D, A, G]
VERSE1
New life in an old city
Don't even bother to say hello
Tell me, are you trying to break me?
Or is this the only love you know
And I'm sitting here among her things
The memories press my eyes
Until I need to run away
But I am drowning
CHORUS
'Cause we all fall down
Between the cracks of this fading town
You won't know where to go
When the light's fading too fast
red, green, to yellow
We all fall down
Torn from the pages of our books
Running from the lands that we took
The sky's too blue for the freefall to slow down
We're nearing too near to the ground
We all fall down
VERSE2
Don't know who to trust
My entire life is a cliché
Of all the ways
things can burn to dust
Not a child, but I'm still scared
The past doesn't have me prepared
For what this city holds
Can't fit your mold
[Repeat CHORUS]
BRIDGE
Gonna find my way, through the mysteries
You can't keep your secrets safe from me
The fire stole so much, but I will take it back
I will smile as you have a heart attack
We all fall down
[Repeat CHORUS]
**********
Thanks for reading! (And not driving me out of town with pitchforks over that recording.)
Goal for today: 2,000.
Overall goal: 8,000.
Current word count: 7,140.
Off to NaNo!
~Julia