I'm warning you ahead of time: THIS IS FULL OF SPOILERS. I'm not going to white it out because if you haven't read Catching Fire yet and therefore don't know what the plot's like, that's your fault more than mine. But also, if you don't want to be spoiled about the changes from page to screen, don't read on, because that's going to be a focus of this reaction post.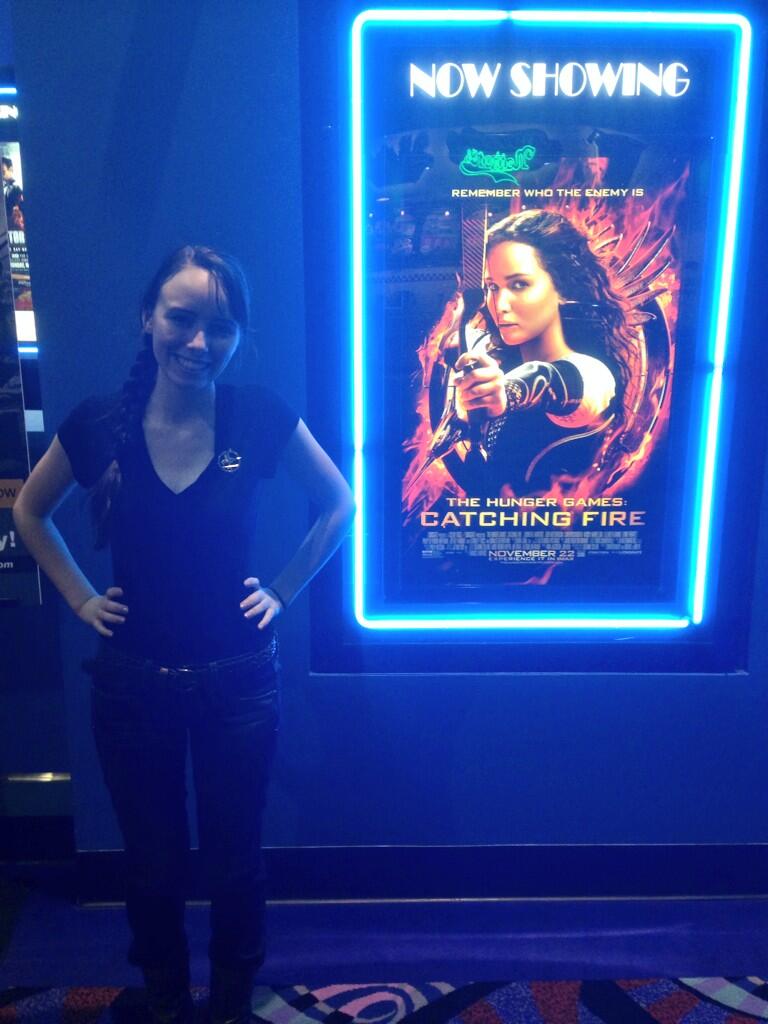 (If you want a faster take on reactions, here's a link to the video Hannah, our friend Emily, and I made last night right after the movie.)
**********
The Hunger Games: Catching Fire. Where do I begin.
I. LOVED. THIS. MOVIE.
If something was weak in The Hunger Games, they made sure to make it strong in this one. At first I was sad when they ditched old director Gary Ross for Francis Lawrence, but oh my gosh, Lawrence went above and beyond with Catching Fire. He took the movie in a direction I don't think Ross would have, and I'm so glad he did. The cinematography was beautiful and he used just enough shaky cam to harken back to The Hunger Games, and THE SPECIAL EFFECTS!
The fake fire actually looked like they tried a little on it this time. The fog was thoroughly and appropriately frightening (and a whole lot scarier than it was in the book–I actually didn't want to continue watching that scene partway through because it was so freaky, which means that it was also really well done). The monkeys were incredible, and I loved how they portrayed the force fields. A lot more money must have been spent on special effects this time 'round.
The entire cast shines in Catching Fire. I wasn't even all that annoyed with Liam Hemsworth, who I thought was terrible in the first one. (His accent has improved so much! Still not quite there, but not so awful that I noticed it every time he spoke.) Every once in a while one of the actors did something or said a line in a certain way that didn't quite work for me, but I mean, that's always going to happen, so no big deal.
Individually, Jennifer Lawrence is, well, Jennifer Lawrence. There were a couple times when I thought Katniss should have shown how she was confused more, while Jen just sort of stood there and frowned into the distance (all she had to do was furrow her brow a little! come on). Overall, though, she is Jennifer. Lawrence. Fantastic job. She brings so much depth to the character in just the fact that she is so subtle about the majority of her acting (and then sometimes she makes faces like the one in the elevator when Joanna strips naked, and you're reminded that this is also the girl who regularly talks about bodily functions in interviews, here). I can't wait to see how she handles Katniss's emotional journey in the next two films, because girl. can. act.
Josh Hutcherson's Peeta was SO MUCH BETTER in this one than in The Hunger Games, primarily because we actually got to SEE him this time. We got Peeta's sarcasm and self-deprecating humor, and you could really see how much he cares about Katniss. (Also, just as a comment: I don't know how they did it, but he seemed taller in this one. Or at least not-quite-as-short-in-comparison-with-Katniss.)
Sam Claflin is FANTASTIC as Finnick. I was a little bit scared going in to see how he'd do, but he was great. His accent was wonderful and he very much embodies Finnick's vibe. I'm worried about how attached we're all going to get to him in Mockingjay Parts 1 + 2.
Love the rest of the new cast members as well. They did a good job of making you fall in love with these new tributes in a short period of time. Whereas with the last movie you weren't really supposed to like any of the tributes outside of Katniss, Peeta, and Rue, this time the moviemakers work for you to fall in love with or at least respect all of the others, which makes the entire thing so much more disgusting and heartbreaking. When I went to see The Hunger Games at midnight, there were a few moments when one of the antagonist-type tributes died and everybody cheered and applauded, just like the Capitol citizens. There's none of that this time. The only cheers and applause in my theater were for when people rebelled against the Capitol. They took the theme of "remember who the real enemy is" to heart while making this. Good for them.
Great performances by the supporting cast, as usual, especially Donald Sutherland (Snow), Philip Seymour Hoffman (Plutarch) Elizabeth Banks (Effie), Stanley Tucci (Caesar), and Woody Harrelson (Haymitch). When Cinna (Lenny Kravitz) gets beaten to death–oh my gosh. I sobbed. That was such a well-paced scene, and exactly how I pictured it in the book, especially with Katniss then being thrust up into the arena right afterward.
Loved getting to see some of the old tributes again. The moment when Katniss's PTSD flares up and thinks she's shot Marvel again is chilling, not to mention seeing the projections of the tributes–seeming so alive up there above their grieving families–during the Victory Tour. It broke my heart. And RUE'S FAMILY. Did anyone else notice how it's just her mother and younger siblings, because her father rebelled during the last movie and therefore, more than likely, is dead at this point? Just thinking through that made it so much worse. That family has lost so much.
For everything they cut, it was interesting that they added a character for this film–President Snow's granddaughter, played by Erika Bierman. She was barely in the movie but was very good at being a sort of foil to Snow's hatred for Katniss; she loves the Girl on Fire for the exact reasons her grandfather hates her. It'll be interesting to see what happens with her character in Mockingjay. I'm hoping we get some juxtaposition between her and Prim.
Why was Buttercup so different? Like I get that you probably can't get the same cat again, but at least try to make it LOOK like the same cat, you know? (HG Buttercup is black and white; this one is an orange tabby.) (Also, I was looking for pictures of the cats from both movies to prove that this is a real thing and I'm not just crazy for thinking they changed cats, and this popped up. I understand them wanting to make the cat look the way he's supposed to in the books, but at the same time–you already messed it up, so why not embrace your mistake rather than trying to backtrack when it's already too late? Weird.)
Catching Fire overall is very true to the book. Of course they left some things out (primarily: a lot of the stuff from the beginning chapters of the book, the way the mockingjay symbol has spread throughout the Capitol as a fashion symbol, Plutarch Heavensbee's watch, and the bread in the arena). I think the movie functioned fine without all of it, though, and looking back on it I'm actually sort of glad they left out the mockingjay watch, because in the context of the film it would have been too obvious. In books, you can lay little clues like that and keep them muddled under layers of other storylines going on. In movies, because you can't have Katniss's here-and-now thoughts distracting you from the actual meaning behind something, every little thing seems much more deliberate and therefore easier to figure out.
Catching Fire really hits its stride once we reach the reaping. Ahead of that I thought a lot of the pacing was dodgy. Either a scene was too short or too long, half the time. But the pacing from the reaping, out, is perfect.
One of my very few disappointments with the movie was that they never watched any of the old Hunger Games, so we never got to see how Haymitch won the Games. I adore that scene in the book, and while the movie works fine without it, it still would have been nice.
One of my favorite lines is Effie explaining the new training center, because in the book that isn't a thing–the training center and apartment and all that are the same ones throughout the entire trilogy. So I'm glad they chose to explain it instead of just doing it and leaving us to be confused. (And Effie's line about "An entire room of mahogany" or whatever! What a great throwaway comment to use as an Easter Egg for fans.)
When Katniss hangs the dummy of Seneca Crane and she takes the time to paint on the beard–I practically had to stuff my fist in my mouth to keep from laughing, because nobody else in my theater did at that point, but wow. What a great detail.
The arena is gorgeous, and it's because of that fact, in part, that it's so horrible. Watching the trailers I kept thinking that it was such a beautiful location, it would be hard to be scared of it watching the movie. Nope. That place is basically scary as all get out and I was ready to get out the moment we arrived. I'm going to see this in IMAX next week and I don't know how I'm going to handle it, because it's going to be terrifying.
I was a little bit annoyed at first that we didn't get to see any of the reactions back in the districts during the Games the way we got to in The Hunger Games, but at the same time I think NOT being able to see what was going on there was important for how the overall arc of this story played out.
One thing I'm a little, tiny bit iffy on is the fact that we got to see Peeta fight other tributes. He probably fights a bit in the book and I just don't remember it, but it would have been nice if they'd made more of the point that Peeta is the only decent victor and the only one who probably cares more for others than he does about his own survival, since that's such an important part to bring back in Mockingjay.
I wasn't a huge fan of the musical score. They tried to remain very true to the score from the first movie, only the feel of this movie is so different from The Hunger Games, so it didn't work as effectively as a score should. Not terrible, but it did pull me out of the movie every once in a while.
The only things they left out I was really disappointed about were Cinna's line about channeling his emotions into his work so that he doesn't hurt anyone but himself and the fact that they never mentioned the baby again after the initial announcement in the Capitol. There were several instances when Peeta or Joanna or Finnick easily could have just let an off-hand comment slide about Katniss being pregnant, like in the book, but none of them ever did it. If you aren't going to keep up the charade, what's the point in starting it to begin with? Both of these things–Cinna's line and the pregnancy–would have been so easy to include, I don't know why they didn't.
Lol at the pictures they chose for the locket. Aren't those promotional shots from The Hunger Games, made to look old-timey? Effie gets the locket for Peeta, which means that it's made in the Capitol. The Capitol has uber technology. Let's think this one through, shall we?
I cried so much throughout this movie. Just every little thing set me off. I don't know if it's because I'm really stressed out about stuff right now, so I'm kind of high-strung anyway, or because the movie really is that good. But I cried SO. MUCH. There were more than a few points when just everyone in the theater was sobbing. Bring tissues if you don't want to snot all over your neighbor.
There's so much more kissing in this movie than last time! I was really annoyed in The Hunger Games when they were like, "Oh, yeah, we're going to up the romantic elements!" AND THEN THERE WAS LIKE ONE GOOD KISS PERIOD. Rest assured, this one makes up for that deficit. (It's hilarious when Katniss kisses Peeta right after Finnick gets his heart restarted because you can see a little bit of slobber action going on. This is great just because the cast talks so much about a take for that scene when there was spit hanging out everywhere and it's like, "Yup. I can see how that happened.")
Remind me to write a wildly popular novel set in Hawaii someday, so they'll make a movie about it and I can hang out on set all day. What lucky ducks, getting to shoot there.
The costumes are magnificent. Some of them aren't true to the books, but I love the interpretations. The wedding dress is gorgeous despite the fact that it doesn't resemble the one from the books at all. It's also interesting how they did the tribute uniforms different this time around–last time, the colors were different depending on district. This time they were all identical. Underlying message from Plutarch Heavensbee?
A couple random little things that they changed that don't really matter, but are worth mentioning: The countdown only goes for ten seconds instead of sixty. Peeta can swim (and, apparently, fight in water). When Mags walks into the fog, Finnick freaks out about it rather than just going along with it more, like he does in the book (I partway like this, partway don't–it's nice to see how much he cares for Mags, but at the same time it made me question how much this interpretation of Finnick knows about what's going on).
Loved the change in how the Peacekeepers take over District Twelve. When they bag the old Head Peacekeeper as he's welcoming Thread to 12, it was so well-done. Great moment. (I feel like such a terrible person applauding their ability to portray evil in this film, but seriously, WELL DONE.)
When Katniss shoots the arrow into the force field at the end and then Snow goes storming out to find Plutarch and he isn't in the control room, I threw my fist in the air like, "YES! You two have been talking about moves and counter-moves this entire time, and YOU JUST REALIZED YOU'VE BEEN PLAYED, SUCKAAA." We never got to appreciate the full effect of Plutarch's betrayal to the Capitol in the book, so that has to be one of my favorite moments in the movie.
The end with the hovercraft and Gale telling Katniss what happened to 12 is really powerful. It doesn't pack quite as big of a punch as the ending in the book does, but it's still fantastic. (And YAY FOR ACTUALLY FOLLOWING THE PROPER ENDING THIS TIME!)
While I'm here, on the topic of splitting Mockingjay into two films: A lot of people are upset about this, and I'll admit, I am a bit too. I was a lot more, though, when they first announced it. This is because I recently saw an interview in which they talked about this decision–and remember how the Mockingjay book has kind of bad pacing, and the ending is rushed and confusing, and you see very little of what's actually going on since you're stuck in Katniss's head? Yeah. Apparently they're planning on trying to fix all of that for the movies. Which makes me hope doing two Mockingjay films isn't entirely just a matter of getting more money out of fans and following the trend Harry Potter started, but also about just giving us a better, fuller experience.
Gahhh, I feel like I'm forgetting half the stuff I want to say, which is sad seeing as this post is getting insanely long. But this movie is SOOO GOOD! Let me leave off by saying: Go see The Hunger Games: Catching Fire. It is leaps and bounds better than The Hunger Games and was well-worth the year and a half wait since that one. The script is great, the cast is outstanding, the cinematography won't make you throw up from dizziness, and it's just. Wow. So good. It is sad and terrible and wrenching and funny and scary and beautiful and all the things I wanted out of this film.
When I gave The Hunger Games 4 out of 5 stars, I was being nice. This one, without a doubt, deserves its 4.5. I cannot wait to see it (and bawl my eyes out throughout it) again.
**********
Read my Hunger Games Movie Reaction here.
Find more information on The Hunger Games: Catching Fire here.
Buy tickets to go see the movie here. (Because, you know, you should. YOU REALLY REALLY SHOULD.)
Oh, and here's a link to Jen and Josh being adorable. In case you weren't already in love with them.
~Julia